The Coastal Redwood - Sequoia sempervirens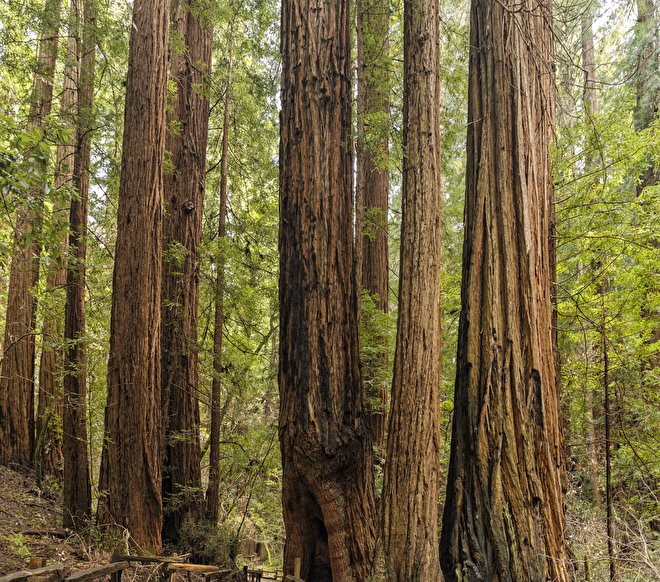 The Coastal Redwood is known by various names such as Coastal Sequoia, Coast Redwood, California Redwood and Sequoia sempervirens. It is the highest tree species on earth and can reach heights of 115 meters. That's a few meters higher that the tower of the St Paul's Cathedral in London. In addition to being the tallest tree species, it is one of the oldest tree species that can grow to be more than 2,000 years old. Based on fossils, it has been established that this tree species grew on earth more than 160 million years ago. The Coastal Redwood tree also grew in Europe until 5 million years ago.
Coastal Redwood trees thrive in a wide range of climate zones and environments, including the UK. On average an adult Coastal Redwood reaches a height of 50 to 100 meters. It can reach a circumference of 22 meters and can grow a soft reddish-brown bark that can grow up to 60 cm. The Coastal Redwood tree is on the IUCN list of endangered tree species.
The Coastal Redwood is one of the fastest growing trees on earth and can grow 1.5 meters per year. The rapid growth starts 5 to 6 years after the seedling has been put in the open ground in a good spot.
The highest measured Coastal Redwood is over 115.7 meters and contains the almost unimaginable amount of 526 m3 of wood. This tree can be found in California and is called Hyperion. This tree was only discovered in 2006 by Chris Atkins and Michael Taylor.
Plant your own Coastal Sequoia seedling tree
Grow a Coastal Sequoia yourself with our seed grow kits